I'm almost done with the mechs for my army. I should have the Summoner painted in the next week or two. That will leave me with only the battle armor to finish. This week we have the iconic Timber Wolf.
As I mentioned a couple of weeks ago on the article I did for the Timber Wolf E painted in Clan Coyote Lambda galaxy colors, I love the sculpt. I'm not a fan of the original sculpt but the resculpted one is very nice. I have seven of them assembled. Only three are painted at this point in time. I still don't own a Prime. The closest I have is the Pryde one. IWM sells the Prime, Aidan Pryde, and the S model (part of the Bounty Hunter pack). There are however five builds that require minimal work. One of these days I will build the A configuration but the mount for the trio of laser on the left shoulder is the part that is making me hesitant to try.
This is a pretty simple conversion too. The only extra parts you need besides the base miniature (20-603RE) are two Puma E Pods (OP-067). Unlike the Timber Wolf E where I had to drill into the torso to secure the launchers, these launchers attached to the shoulder posts on the arm. I used the original LRMs as a guide to see where I needed to drill the hole in each launcher to the arm with some glue on the torso. They lined up nicely and securely. The two holes where the machine gun and medium pulse laser mounts attach were filled in with Green Stuff.
Much like the Executioner from last week, this mech is a simple killing machine. You do have the iATM special ability which could allow you to use special munitions but it may not be worth it. The raw damage will probably take care of most things but the heat could be handy at times. The magnetic pulse could also be nice. This is also the second of my NOVA trio. This means it can share targeting data with the Osteon and the Summoner.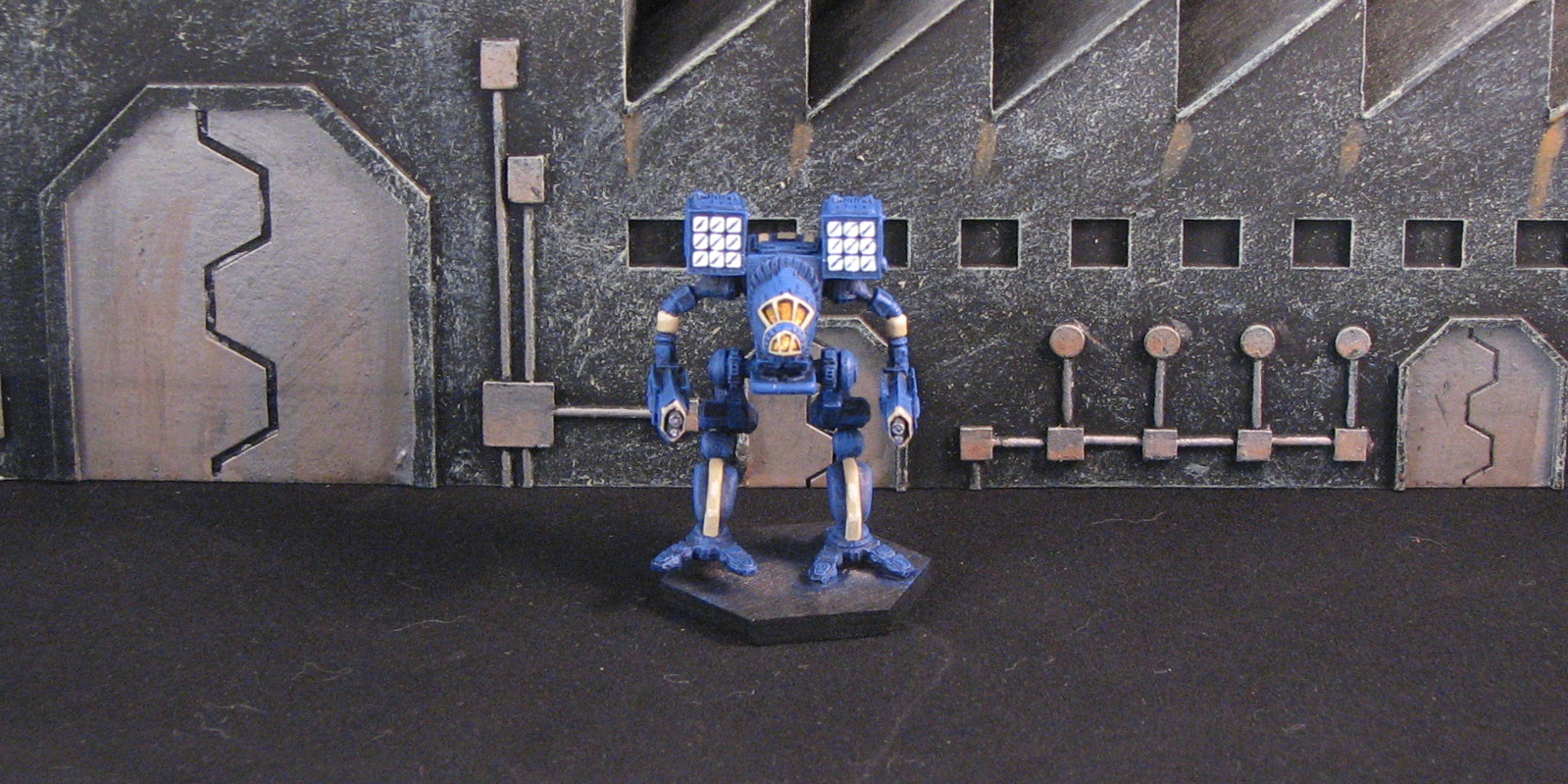 Timber Wolf Z
Timber Wolf Z
Here are the four units painted so far. This brings us up to 228 points so far.
And a sneak peak of the Summoner Z. The black primer is definitely hiding some of the details. It wasn't as bad as I had feared.
A Call To War: Clan Coyote Epsilon - Part 1
A Call To War: Clan Coyote Epsilon - Part 2
A Call To War: Clan Coyote Epsilon - Part 3
A Call To War: Clan Coyote Epsilon - Part 4
A Call To War: Clan Coyote Epsilon - Part 4a
A Call To War: Clan Coyote Epsilon - Part 5
A Call To War: Clan Coyote Epsilon - Part 7